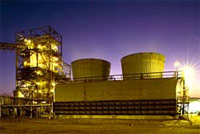 Georgia Power (part of Southern Company) announced that the PUC has approved the conversion of the Mitchell Plant to a 100MW biomass plant.
That's not surprising.  What is surprising is that through the analysis, no one has seriously questioned the size of the plant!  100 MW is just too large for a cost effective biomass plant without torrefaction -- and Southern Company has no known plans for torrefaction.
According to one estimate, the plant will require 160 Chip Trucks a day.  Given an economic distance of 25 miles, consuming 3,520 tons of chips a day will create a regional biomass black hole pretty quickly.

Now lets look at the other side:  Three things are true.
A)  The amount of woody biomass available is generally underestimated and Georgia is rich in aging woody biomass due to the downturn in paper and housing
B)  Depending on how Cap-&-Trade comes down, the value of biomass could make bringing chips in by rail from further distances economic.
C)  Georgia does not need to run the plant at capacity nor do they really have to commission it
What you say?  Since they are retrofitting an existing mothballable plant, they can move the process forward and see how Cap-&-Trade comes down.  If biomass gets calculated right (carbon neutral) and it looks like the price of credits are going to soar, they can press forward quickly and get this plant into production quickly.  If they create a black hole for local biomass, at least they have bought time and avoided buying into a short term carbon credit bubble.

Hmmm... Some smart thinking going on at Southern Company.....
Of course the "Right" answer long term is:
1)  Build plants in the 30MW to 40MW -- this is the optimal size for green chips
2) Invest in 
Torrefaction!
  Stretch the economic range of delivery to 100 miles by rail or more! 
We'll continue to work on #2.